Providing Online Therapy in
California, Colorado, and Michigan
Online Therapy  (also referred to as Teletherapy, Telehealth, Virtual Therapy, Telemedicine Therapy, Online Counseling, Internet Therapy, Distance Counseling, Remote Therapy, E-Therapy, etc.)
Looking For Online Therapy?  It's a great option for a lot of people. On this page, I will share information on the benefits, how I provide online therapy, and things to keep in mind when starting.  If you have any follow-up questions about anything you read or want additional information, please Reach Out or set up a Free Phone Consultation. I would love to discuss options and help you determine what services are right for you.
I Provide Telehealth Services In Two Ways:
Many clients are looking for online therapy options, and why not, there are so many benefits!
• More Accessibility For People With Limited Mobility, Limit Access To Transportation, or Those Living In Rural Communities
• More Therapist Options When You Can See Anyone In The State
•

More Convenience, No Need to Find Parking!
•

More Safety in The Time of COVID
• 

Better For The Environment With Less Car Admissions
• 

Saves Time On Commute To The Office
• 

It Can Feel More Co

mfortable In The Comforts Of One's Living Space or Other Chosen Location
What to Know Before Scheduling an Online Therapy Session:
• Technology Needed: For video sessions, you can use any device that can connect to either Chrome, Firefox, or Safari (e.g. your phone, computer, or tablet). You will need a video camera and a microphone, and most people prefer using headphones. You will also need a location with good internet, satellite signal, or cellular service in order to have as clear a connection as possible. Don't forget to ensure that your computer or phone is charged or plugged into a power source—otherwise, you may experience an abrupt end to your session!
• Image Preview: If you prefer not to look at your own face during sessions, I totally get it.  You will be able to hide your image once you sign in if you would like.  You can do this by clicking on the three dots on your image and clicking "Hide My Preview."
• Confidentiality: You will need a private location for your sessions to do therapy confidentially. This can be difficult for some, but I have had many clients become very creative with finding privacy. Creative solutions have included doing therapy from their car, their making partners or roommates leave during session times, purchasing sound machines to put outside their door, or doing phone sessions while talking a walk outside.
• Distractions: You often have more distractions when doing therapy from the comfort of your living space, including random noises, pets, or all the fun things that you own.  Try to create or find a location where you will be the least distracted.  This may mean managing pets ahead of time, silencing your phone, or simply locating a room in your home/building with the least amount of noise.
• Insurance Reimbursement: If you want to use out-of-network insurance coverage, some insurances are not reimbursable for telehealth sessions. This number has increased since the COVID-19 pandemic, but it may not be a benefit they will offer long-term. It's best to call your insurance company to find out more about your specific plan and coverage. Learn more by visiting my Using Your Insurance page.
• Legal Obligations: At the beginning of every session, I am legally obligated to verify your identity and the address of your present location. Your location is needed in case of an emergency.
What Are The Steps To Schedule Virtual Online Counseling Appointments?
The process is no different than a face-to-face appointment. You would start by setting up a free phone consultation.  During the call, we can verify if my services and telehealth are right for you. If it is, then we can set up a first meeting, and I will give you a link to use for our first session. 
Does Online Therapy Really Work as Well as In-Person Therapy?
This question has been thoroughly researched, and the answer is yes! Additionally,  I have been practicing telehealth since 2015 and have seen firsthand that it can produce equivalent outcomes to my work with clients in a physical office setting.  I have also seen it can provide more accessibility and comfort to people doing therapy in the comfort of their own living spaces.  Telehealth sessions are a great option when you struggle with depression, anxiety, trauma, grief, lack of self-worth, or self-doubt.
When do you meet with clients? 
My open availability varies. Please get in touch with me or schedule a free phone consultation to learn about my current openings.  I often have limited open session times after 4 pm.  My therapy office hours:
Monday: 9 am-6:30 pm (In-Person + Online Therapy)
Tuesday: 9 am-6:30 pm (In-Person + Online Therapy)
Wednesday: 9 am-6:30 pm (Online Therapy only)
Thursday: 9 am-6:30 pm (In-Person + Online Therapy)
How Online Video Counseling Works:
The video technology I use is through Doxy.me. It is incredibly easy to use and is a HIPPA-compliant platform (incredibly secure). You do not have to create an account or download any software. Once we schedule an appointment, I will send you my unique link to my virtual "waiting room." Just before the time of our appointment, you will click on the link. It will take you to a screen that looks like this: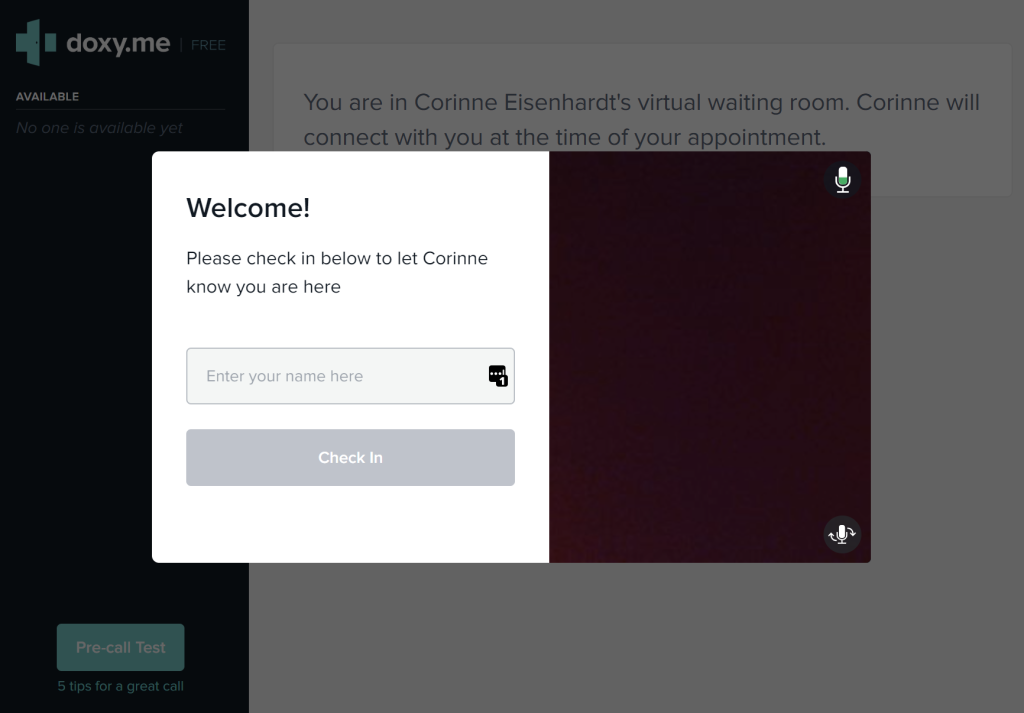 You can either enter your name or your initials to check-in. Once you are in the waiting area, you are all set.  I will connect with you at the time of our appointment. Feel free to "check-in" before the counseling session to familiarize yourself with the site/technology.
If you are having technical difficulties at the time of the appointment, don't panic these things happen, just text/call me, and we will get things figured out.
For more visual instructions, please watch this video: Doxy.me - Checking in as a Patient
Interested in giving online therapy a try? 
Whether you are struggling with Depression, Anxiety, Trauma,
Grief, Lack of Self-Worth, or Self-Doubt,
online therapy is a great option.
You can get started by setting up a Free Phone Consultation today!